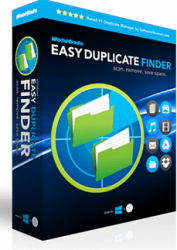 Find and delete duplicate files once and for all! With Easy Duplicate Finder managing duplicates on Windows and Mac is as quick, easy and accurate as it can possibly be. The program makes it easy for you to delete all sorts of duplicate photos, documents, songs, videos, and more.
Easy Duplicate Finder uses lots of different file comparison methods including comparison by content. This guarantees 100% accuracy no matter how many duplicates you are comparing. Easy Duplicate Finder can find and delete duplicates in iTunes, iPhoto, Photos, Windows Media and Google Drive, and has all the tools to make the process as easy as possible.
Let Easy Duplicate Finder recover free space for the files that really matter!
Download
Visit Website
Buy Now
Support
Download
Find duplicates the easy way
Easy Duplicate Finder is an advanced and easy to use all-in-one duplicate finder. With its help you can find and delete all sorts of duplicate files including documents, music files, photos, videos, PDFs, emails and more.
Easy Duplicate Finder has an intuitive interface and all the tools to make deleting duplicate files quick an easy. You can use the Wizard to find the duplicates, the Assistant to manage them, and Live Preview to check out the files you are going to delete. And if you use iTunes, Windows Media and iPhoto, Easy Duplicate Finder will help you delete duplicates in your music and photo libraries.
Works on Windows and Mac
Easy Duplicate Finder is fully compatible with the latest versions of Windows and Mac OS X. Try it now and find all the duplicates you may have!
Visit Website
Buy Now
Support