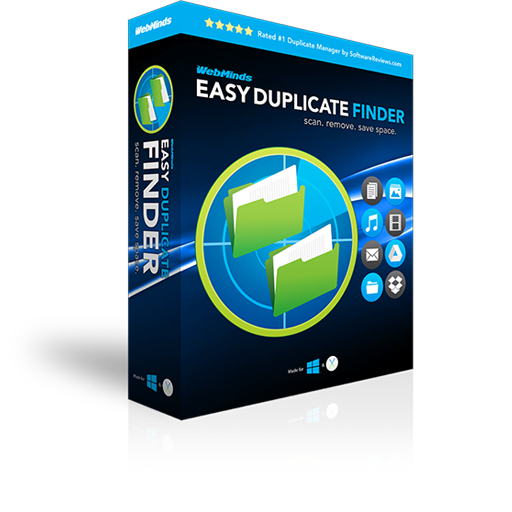 Find and delete duplicate files once and for all! With Easy Duplicate Finder managing duplicates on Windows and Mac is as quick, easy and accurate as it can possibly be. The program makes it easy for you to delete all sorts of duplicate photos, documents, songs, videos, and more.
Easy Duplicate Finder uses lots of different file comparison methods including comparison by content. This guarantees 100% accuracy no matter how many duplicates you are comparing. Easy Duplicate Finder can find and delete duplicates in iTunes, iPhoto, Photos, Windows Media and Google Drive, and has all the tools to make the process as easy as possible.
Let Easy Duplicate Finder recover free space for the files that really matter!
Download

Visit Website

Buy Now

Support
Find duplicates the easy way
Easy Duplicate Finder is an advanced and easy to use all-in-one duplicate finder. With its help you can find and delete all sorts of duplicate files including documents, music files, photos, videos, PDFs, emails and more.
Easy Duplicate Finder has an intuitive interface and all the tools to make deleting duplicate files quick an easy. You can use the Wizard to find the duplicates, the Assistant to manage them, and Live Preview to check out the files you are going to delete. And if you use iTunes, Windows Media and iPhoto, Easy Duplicate Finder will help you delete duplicates in your music and photo libraries.
Works on Windows and Mac
Easy Duplicate Finder is fully compatible with the latest versions of Windows and Mac OS X. Try it now and find all the duplicates you may have!
Learn more about Easy Duplicate Finder
Duplicate files are not only annoying, but they can also make your PC or Mac slower. The more files there are, the more time your computer needs to find the right files. Deleting duplicates will free up valuable disk space and make your computer run faster.
Easy Duplicate Finder is a quick and easy way to find and delete all types of duplicate files. You can compare files by name, type, size, and even content. Easy Duplicate Finder has advanced file management features and flexible settings you can customize to fit your needs.
To learn more about Easy Duplicate Finder and all its features, visit its dedicated website where you can read about the program, access a comprehensive support area, and download Easy Duplicate Finder user manual.
Organize the files on your computer
Use Easy Duplicate Finder to organize files and folders on your computer for better efficiency and ease of use. You don't have to tolerate a cluttered PC or Mac!
Who is Easy Duplicate Finder for
Easy Duplicate Finder is a versatile file management program. It's especially useful for:
Home users: keep your folders organized and duplicate-free, so that your PC or Mac runs faster and works better.
Writers and editors: never edit the wrong version of a document again.
Music lovers: delete duplicate iTunes tracks and sync your music libraries with Easy Duplicate Finder
Have Questions? We're Here to Help!
We understand that using new software that has lots of different features and options can sometimes get a bit tricky, even if the software is really intuitive. That's why we recommend that you check out the following support information before you start finding and deleting duplicate files with Easy Duplicate Finder:
If you run into any problems, feel free to get in touch and submit a support ticket.