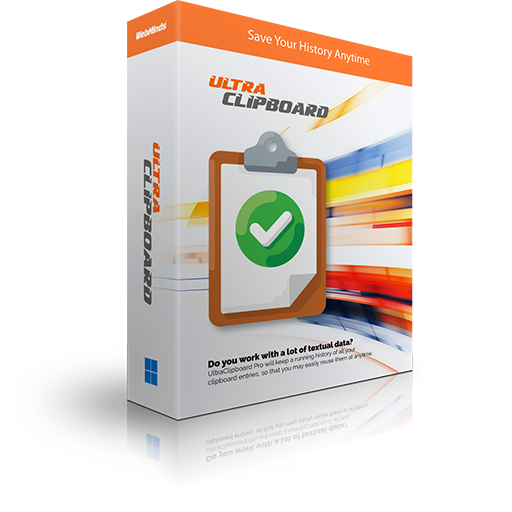 Do you work with a lot of text? Do you need to have your copy history at your fingertips? Then Ultra Clipboard is the tool for you!
Ultra Clipboard is a useful tool for al who work with a lot of text. It keeps a history of all your clipboard entries and saves it, so that your history is available at any time. Ultra Clipboard stores the content of the copied entry along with the date and time of the action for convenient future use.
Access your copy history any time, search your copied entries for quicker access, and boost your productivity with Ultra Clipboard.
Download

Visit Website

Buy Now

Support
Access all your clipboard anytime and re-use them as you need with Ultra Clipboard. The application works with all Windows versions, which means that you can download and start using Ultra Clipboard today. You can use it to copy text from MS Word, Notepad, Internet Explorer, Firefox, Chrome and a number of other software programs. All your clipboard entries will be conveniently stored in one place, so that you can paste them anywhere whenever you want.
Learn more about Ultra Clipboard
Ultra Clipboard is a simple utility that will save you a lot of time. It will increase your productivity when you are working with texts and allow you to maximize the use of your word processing software.
To learn more about Ultra Clipboard and all its features, visit its dedicated website where you can read about the service, access a comprehensive support area.
Ultra Clipboard is a lightweight and easy to use application that is idea for everyone who needs to be more productive when working with texts. Here are the main benefits of Ultra Clipboard:
Very lightweight 2MB application
Unlimited access to online support
Unlimited future updates for free
Easy and intuitive to use
Only $14.95
Take advantage of all the features of Ultra Clipboard today!
Have Questions? We're Here to Help!
We understand that figuring out how to use a new program can sometimes be a bit hard, even if it's really intuitive. That's why we recommend that you have a look at the FAQ before you start using Ultra Clipboard.