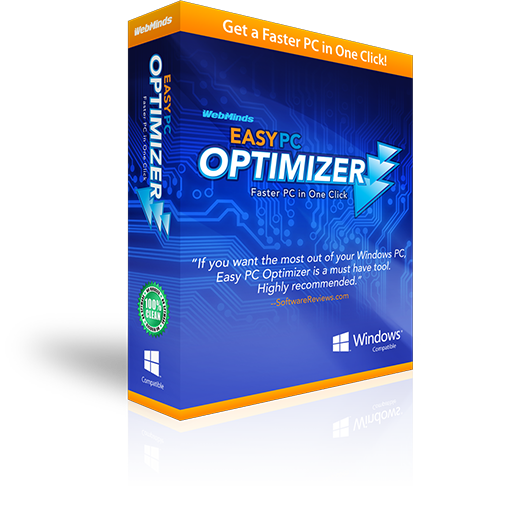 Optimize and speed up your computer with Easy PC Optimizer! With this app your PC will become fast, responsive and error-free.
Easy PC Optimizer is a powerful computer optimization, repair and cleanup tool. It will improve the performance of your Windows system in just a few simple clicks. With Easy PC Optimizer you can optimize Windows settings, clean up digital junk, protect your privacy, improve system performance, and more. Best of all, it's 100% free to use!
Easy PC Optimizer uses tested and proven computer optimization techniques that configure Windows settings to match your hardware. It also has powerful cleanup tools that will help you free up disk space and improve PC speed and performance. With Easy PC Optimizer, you'll forget what a slow PC feels like!
Download

Visit Website

Support
If your computer is slow, unresponsive and full of errors, this is the program you need. It will make even the slowest computers faster in less than five minutes.
Easy PC Optimizer has eight PC speedup, cleanup, optimization and Windows tweaking tools that will give your Windows PC a complete makeover. Easy PC Optimizer will delete useless junk files and free up disk space, fix Windows errors and stability problems, defragment the registry, and let you easily manage hidden Windows settings.
Easy PC Optimizer is absolutely safe to use because it backs up the registry before it changes any settings, so that you can easily roll back in case something goes wrong.
Learn more about Easy PC Optimizer
It's not a secret that computers tend to slow down with time. Even the fastest and the most powerful PCs start becoming slow after several months of use. This happens because computers accumulate junk files, operating system errors, and build up unneeded startup entries. And don't forget all those Windows settings that are not optimized out of the box to meet your hardware requirements.
Easy PC Optimizer helps to increase the speed of a sluggish computer in a fast, proven and easy way. All you need is open Easy PC Optimizer, run a full scan and let the app fix all errors. It will clean up junk files, optimize your startup, repair Windows errors, and tweak Windows settings.
To learn more about Easy PC Optimizer and all its features, visit its dedicated website where you can read about the program and access a comprehensive support area.
Who Is Easy PC Optimizer For
Easy PC Optimizer is a bundle of Windows speed up and optimization tools that all PC users should use. It's particularly handy for:
Home users: even computer novices will be able to optimizer their computers with Easy PC Optimizer.
Computer technicians: use Easy PC Optimizer to repair and improve the performance of your clients' computers.
Computer enthusiasts: tweak Windows and automate PC maintenance with this well-designed and intuitive tool.
Have Questions? We're Here to Help!
We understand that figuring out how to use a new program can sometimes be a bit hard, even if it's really intuitive. That's why we recommend that you have a look at the following support information before you start optimizing your computer with Easy PC Optimizer: