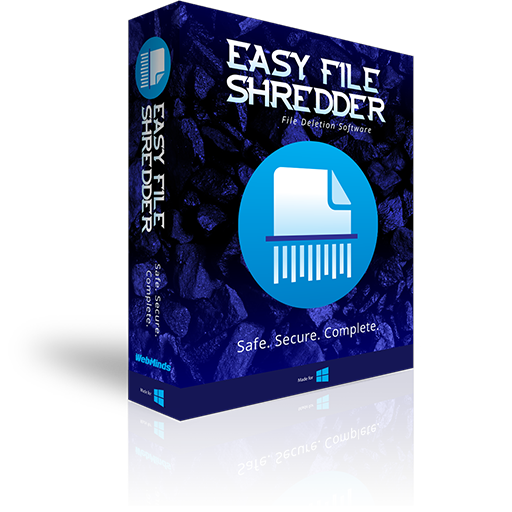 Don't put your privacy at risk! Securely delete files and wipe free disk space with Easy File Shredder.
When you delete a file or a folder, Windows doesn't completely erase it from your disk. This is great if you need to recover an accidentally deleted file or photo, but it's not that great if someone manages to get hold of your private information. Easy File Shredder will prevent that.
With this product you can securely shred confidential files, clean-wipe already deleted files, prevent file recovery and avoid identity theft.
Easy File Shredder will help you make sure your deleted files are really gone.
Download
Visit Website
Buy Now
Support
Download
Your privacy is something that shouldn't be taken lightly. Use this software to make sure all the files you delete are unrecoverable.
Easy File Shredder acts just like a paper shredder for digital files – it deletes them in such a way that they can't be restored. The program uses advanced data deletion algorithms approved by the U.S. military and other government organizations, which guarantees complete security. With Easy File Shredder you can securely delete files and folders, erase already deleted files by clean-wiping free disk space, and scan your computer for files that can be recovered. You can choose from more than a dozen of shredding methods or create your own unique data deletion algorithm in just a couple of clicks.
Shredding files with Easy File Shredder is fast, easy and secure. Download Easy File Shredder now and know that your data is safe.
Visit Website
Buy Now
Support