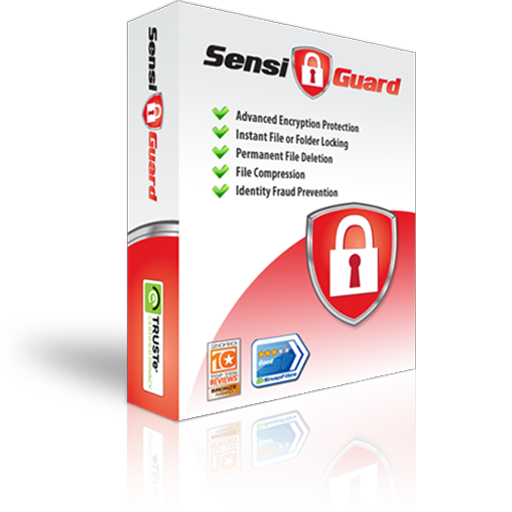 Protecting your private files has never been easier! You don't need to have any technical knowledge to encrypt files with SensiGuard.
SensiGuard is an advanced yet easy to use file encryption software that will allow you to encrypt files and folder, protect your private information and prevent identity theft. The program uses 256-bit AES encryption, which is the highest industry standard. But this doesn't mean that SensiGuard requires any technical knowledge from the user. On the contrary, it makes encrypting as quick and easy as possible.
With SensiGuard your private data will be under lock and only you will have the key.
Download

Visit Website

Buy Now

Support
Protect yourself from data theft with SensiGuard file encryption software. Unlike other data encryption programs, SensiGuard doesn't require you to have any technical knowledge. All you need to do is select the files you want to encrypt and SensiGuard will do the rest.
SensiGuard combines advanced data encryption methods with an intuitive and easy to use interface. It uses 256-bit AES encryption, the same technology used by government organizations, to protect your data.
With SensiGuard you can lock files and folders in just a couple of clicks, manage passwords, compress encrypted files to save disk space, and protect yourself from identity theft.
Learn more about SensiGuard
Computer viruses, hacker attacks and careless computer use make you susceptible to data theft. Hackers can not only steal your private files, but they can even steal your identity and clear your bank account. To make sure you don't become the next identity theft victim, you need to do everything you can to protect your files. This doesn't mean that you need to lock your laptop in a safe.
SensiGuard is an encryption program that will help you protect the files on your computer. It's powerful algorithms will make sure that your files are under lock and only you have the key.
To learn more about SensiGuard and all its features, visit its dedicated website where you can read about the program, access a comprehensive support area, and download SensiGuard user manual.
Protect your data
Even if you are a home user, you need a lot more than an anti-virus to keep your files safe. Data theft almost always leads to other cyber crimes like identity theft. SensiGuard will make sure this never happens to you.
Who is SensiGuard for?
SensiGuard provides robust file encryption for:
Home users: make sure your private data stays safe
Office users: keep your work files protected from prying eyes
Small businesses: protect your clients' data
Have Questions? We're Here to Help!
We understand that using new software can sometimes raise questions, even if the software is really intuitive. That's why we recommend that you check out the following support information before you start encrypting your files with SensiGuard: