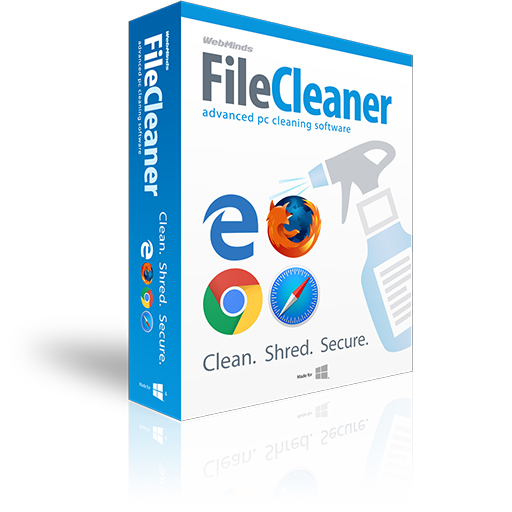 Make your computer fast, clean and secure with FileCleaner's powerful cleanup and optimization tools.
FileCleaner has a powerful set of Windows utilities to make your computer run faster without any hassle. It can run real-time PC cleanup, delete junk files in one click, remove annoying browser toolbars, uninstall unwanted programs, and fix PC errors.
In addition to all its PC cleanup and optimization features, FileCleaner will help you protect your privacy. It has a built-in file shredder that can securely erase files so that they can never be recovered.
With FileCleaner your computer will become as fast as when it was brand new! And the best part is that you don't have to be a computer expert to use all of FileCleaner's advanced tools.
Download

Visit Website

Buy Now

Support
Do you want to speed up your computer and protect your privacy at the same time? FileCleaner is the tool you need for complete PC cleanup!
FileCleaner is a fast and easy to use system cleanup program that will speed up, repair and protect your computer in real time. With FileCleaner you can delete junk files and temporary files created by your browsers, delete annoying toolbars, and repair registry errors in just a couple of clicks. In addition to that, FileCleaner has a built-in file shredder that will help you protect your privacy. What makes FileCleaner different from similar software is that you can set it to clean up your system in real time. This feature will help you save time and keep your computer clean at the same time.
With FileCleaner, your computer will stay fast, stable and secure.
Learn more about FileCleaner
Junk files, cluttered browser and too many temporary files in your cache can make your computer sluggish. FileCleaner will help you make your PC fast again in just a couple of clicks.
When you browse the Web, download files and software, and simply use your computer, Windows creates all sorts of temporary files. These files accumulate over time and make your PC sluggish by taking up disk space. FileCleaner will take care of your computer by deleting unneeded temporary files in real-time, so that you don't need to remember to perform regular maintenance. In addition to that, FileCleaner will fix Windows errors that make your PC unstable and help you protect your privacy.
To learn more about FileCleaner and all its features, visit its dedicated website where you can read about the program, access a comprehensive support area, and download FileCleaner user manual.
Make your PC faster
A fast and stable computer is not always about your hardware. The most common reason for having a slow computer is system and browser clutter. FileCleaner will get rid of all digital junk on your PC in real time, so that you don't have to worry about performing regular maintenance.
Who is FileCleaner for
FileCleaner is a PC cleanup tool for everyone, but it's especially useful for:
Home users: make sure your computer stays fast and stable even if you browser the Web a lot and love downloading files.
Computer Technicians: install FileCleaner on your clients' computers to make them faster and more stable, plus use it to uninstall annoying toolbars.
Geeks: keep your computer in top shape and maximize its power with FileCleaner's advanced features.
Have Questions? We're Here to Help!
We understand that using new software can sometimes get a bit difficult, even if the software is really intuitive like FileCleaner is. That's why we recommend that you check out FileCleaner's Support Area before you run PC cleanup and optimization with FileCleaner.