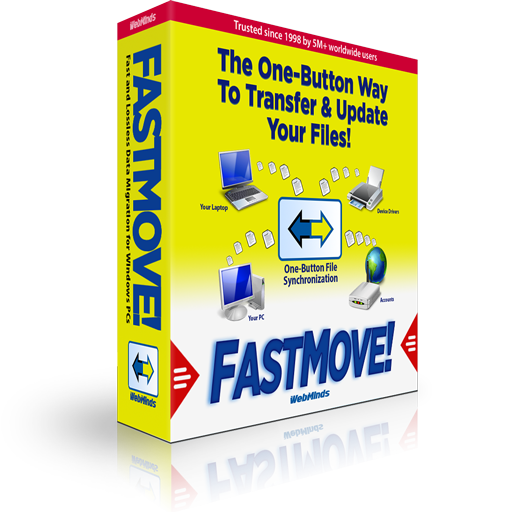 Buying a new computer is always exciting and fun. However, transferring all your files, installing the software you need, and configuring Windows settings to match the setup you're used to is never easy and can waste hours of your time. FastMove takes the hassle out of data migration between PCs and makes it easy to transfer everything from your old computer to the new one.
With FastMove you can transfer user profiles, device drivers, your installed software, custom files and folders, and browser favorites. It also has an awesome sync feature that lets you effortlessly synchronize folders both locally and remotely.
Download

Visit Website

Buy Now

Support
Transfer data between Windows PCs
FastMove is designed to migrate data between computers running Windows in a quick and efficient way. Whether you want to transfer data between PCs running the same Windows version or need to move your files and settings from Windows 7 to Windows 10, FastMove has you covered.
Download FastMove
Download FastMove for free and see how easy it is to transfer data from your old computer to your new system. The free trial lets you migrate custom files and browser favorites for an unlimited number of times. FastMove supports data transfers between 32-bit and 64-bit systems, as well as between Windows 7, Windows 8, and Windows 10.
Learn more about FastMove
FastMove has all the features for fast, efficient and successful data migration between computers running all modern versions of Windows. It works online and offline, which means that you can migrate data in any setup or simply export it to an external hard drive. Visit the FastMove website to learn more about the app's features and functionality.
Move data between computers without any limits!
FastMove is a lightweight and easy to use app that lets you move your files, software, settings, and device drivers from one Windows-based computer to another. It comes with a free trial that allows you to migrate two types of files, custom user files and browser favorites. Click on the button below to upgrade to the full version of the app to be able to transfer all your data from one PC to another.
Have Questions? We're Here to Help!
We understand that using new software can sometimes be a bit tricky, even if it's really intuitive. That's why we recommend that you check out the Support section on FastMove.com. We encourage you to read the Quick Start Guide and the Frequently Asked Questions. And if you run into any problems, feel free to submit a support ticket. We'll get back to you really quickly.